The first thing I should probably point out is that when I've titled this post as 'Magical Mui Ne' I am actually writing about a place that is actually not called Mui Ne, but rather Ham Thien. Mui Ne is a very small, quiet fishing village nearby, but all the guidebooks and other backpackers at the time were referring to the beach area that I headed to as 'Mui Ne' so I guess the name stuck.
I decided to head to Mui Ne with a friend who I met while volunteering in Siem Reap, Cambodia (more about that later!), who turned out to be an awesome travel partner and became one of best friends!
We'd both been travelling for some time and we were looking for somewhere to chill out and get some much needed beach time for the last 2 weeks of our travels. We certainly hit the jackpot with Mui Ne.
It was the final two weeks of my 11 month trip and I had been boasting to new friends in Siem Reap that I hadn't succumbed to the 'travelers bug' yet and that therefore I was a far superior backpacker… Well, karma struck! Somehow I managed to contract food poisoning the night before our 7 hour bus journey from Ho Chi Minh City to Mui Ne. Needless to say the bus journey was dreadful, but after a few near misses and some strong sleeping pills – at last we arrived.
Its hard to describe my first impressions of Mui Ne 4 years on, I guess that's my fault for being so lazy with travel blogging – but its quite interesting to look back and remember the few things that stood out to you most. The first things that come to mind when I think of Mui Ne are, in no particular order:
The dogs… there were SO many dogs everywhere, more so if possible than in HCMC.
The smell. Anyone who has travelled Vietnam will understand what I am talking about and those who haven't I would say you ought to count yourself lucky. A delicacy in Vietnam is sun dried fish!! These are hung out en masse, on stalls, on clothes lines, on car roofs, anywhere really and have an incredibly pungent smell that seems to hit you like a wall whenever you get out of a moving bus, or off a motorbike.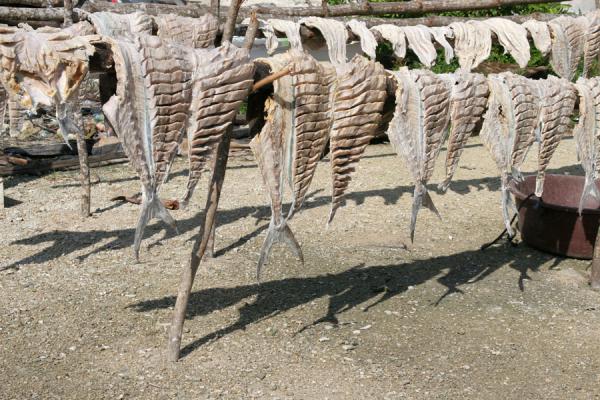 The children. Although this doesn't specifically apply to Mui Ne, but rather my experience of Vietnam as a whole, there are specific memories I have of the children in Mui Ne. There was always someone's child, scantily clad, playing in the sand, or trying to help you out with whatever it is you were doing.
Sand. Given that it's a village on the coast and is famed for its sand dunes I guess this again is an obvious one, but there was sand EVERYWHERE. Bathrooms, restaurants, hostel rooms, clubs, pools, motorbikes, water bottles… a recurring theme in my mind is being perplexed as to how the sand got literally everywhere. Woes of being a beach bum I suppose.
The most stunning sunrises and sunsets I have EVER seen, and after backpacking around SE Asia for 6 months I'd seen a fair few.
We stayed in a great 'resort' called Wax Beach Club.  It has little bungalows, a pool, a restaurant, access to the beach, and a nightclub! Sarah and I thought we struck gold when we found this place, considering our plan for the next two weeks was to sleep, sunbathe and go out. They served great Vietnamese frozen coffee with sweet milk – cà phê nâu đá – which soothed the heads in the morning too.
Its a small area that is really easy to get around so long as you have a moped, otherwise the walks up and down the bay (to Joes!) would be pretty long!
The resort and the whole area really were very quiet; the very few travelers that came through ended up congregating at Wax Beach Club and Sankara Bar and we ended up with a group of us that would hang out together, eat together, go out together and plan future trips together… even a "midnight Frisbee rendezvous" was planned but yet to materialise!
There are two things that I want to blab on about with Mui Ne. The first is Food, and the second are the bamboo fishing boats.
Food
As some of you may have guessed I am a bit of a foodie, so it's always important to me, but the food 'experience' that I had in Mui Ne was something else.
Firstly, I had the best pasta I have ever had in my life. Big call, and I have no proof, and it sounds bizarre – but its true. Joe's Garden Restaurant which was just down the road from the Beach Club was where I found this amazing pasta. We used to go there in the early hours of the morning after Wax Club closed in search of late night food. Joe's was the only place open at that hour, and I can assure you it wasn't the effects of alcohol that had us returning for this pasta (I went in the day time too!). It is surprising, considering we aren't in the south of Italy, that I experienced this, but it's true. Sadly I don't have any photographic evidence, so you'll just have to take my word for it. The masterpiece I am talking about is a creamy tuna pasta, with a hint of onion and plenty of garlic.. always made fresh, and served by "Mamma" with a huge smile whatever the hour. For the 5 minutes it took me to eat it, it was 5 minutes of ecstasy and transported me back to home. Absolutely delicious. DON'T go to Mui Ne and miss this.
Secondly, the sea food in Mui Ne is incredible. Its expected of a fishing village I suppose, but nothing beats walking off the beach to a road-side stall known as 'Bo Ke' and choosing your dinner pretty much fresh from the sea.
There's a big craze over in Vietnam (when I was there anyway) for 'Beer & Snails' stalls… pretty much what it says on the tin, but they're not actually snails they're scallops. These are not just any scallops but the tastiest, melt-in-your-mouth, fresh, cant-get-enough scallops. They're speedily cooked in scalding hot pork fat, popped back in their shells and covered with green onion, lime and peanuts. It's quite amazing, and teamed up with a Vietnamese Beer 33 (!), you've sorted yourself out with a delicious dinner.
Boats
Boats are a pretty major thing in a fishing village of this size, located in a relatively small bay. Each morning at sunrise and each evening at sunset hundreds and hundreds of small, circular bamboo boats would take to the bay, armed with two men and a massive net squished inside. These boats look like half coconuts bobbing in the sea from the beach, and makes for some quite extraordinary photos of sunrises and sunsets.
Some of my friends even managed to hitch a ride and go fishing with some fishermen at sunrise!
I am not a pro when it comes to boats, but these were so bizarre, they had no engine, and were rowed out to sea but two men who barely fit inside, so I just couldn't understand why they didn't use small fishing boats like they did in the South of Thailand.
After asking around a bit and looking online there seems to be only one reason, and that is a rumour that I obviously cant verify BUT apparently the locals were subject to a Boat Tax during the French rule of Vietnam! These small, handmade, human powered boats were not subject to this tax and voila – the half-coconut-cum-fishing-boat was born! 
So… a pretty awesome place! If I had to choose my Top 3 Things I think they would be:
1. The Food
2. The Sunrises/Sunsets
3. The amazingly relaxed atmosphere in the day and the transformation into a fun, party going beach destination at night. Perfect balance.